Established in 1953, Midland Credit Management, Inc. (MCM) is a market leader in portfolio purchasing and recovery in the United States, leading the industry with consumer-centric practices that drive results. The company provides debt recovery solutions for consumers across a broad range of assets. MCM purchases portfolios of defaulted consumer receivables and manages them by partnering with its consumers as they repay their obligations and work toward financial recovery.
In 2011, MCM introduced the industry's first Consumer Bill of Rights codifying its commitment to working with consumers through mutual engagement, understanding, collaboration and respect.
With over 4,000 employees worldwide, MCM is headquartered in San Diego, California, and maintains domestic and international operations across the United States, Costa Rica, and India.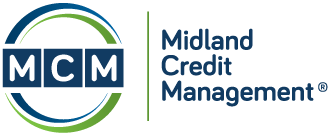 Click here to visit website
Awards, Certifications and Recognitions

U.S. Presidential Volunteer Service Award – Gold, Corporation for National & Community Service. 2019, 2018, 2017, 2016, 2015
'Women at Workplace' Best Innovative Practices Award, Global Compact Network India (GCNI).  2019
100 Best Companies for Women in India, AVTAR Group & Working Mother Media. 2017
ISO 27001:2013 Certification for continued efforts to protect consumer information, International Organization for Standardization. 2017
HR Best Practices & Awards for Talent Management, Dun & Bradstreet. 2017
Certified Professional Receivables Company – Debt Buyers Designation, DBA International Program. 2016, 2014
Top 50 Companies in Information Technology Enabled Services (ITES), Great Place to Work Institute's 'India's Best Companies to Work For' study in partnership with The Economic Times. 2016 (#13), 2015 (#4), 2014 (#1), 2013 (#1), 2012, 2011
Top 25 companies, Asia's Best Workplaces by Great Place to Work Institute. 2015
100 Fastest-Growing Companies, Fortune Magazine. 2012, 2011
San Diego's Healthiest Company, San Diego Business Journal. 2012, 2011
Industry's-First Consumer Bill of Rights, Midland Credit Management. 2011