October 31, 2022
How Women Thrive at Work in MCM India's Inclusive, Collaborative Culture
One of Encore Capital Group's core Values is to be inclusive and collaborative. That means embracing our differences and working together to ensure everyone can thrive at work. Encore's Midland Credit Management (MCM) subsidiary in India has been living this Value by creating a better experience for the women on its team, and the effort has had a significant impact on the organization. It's been recognized among the "100 Best Companies for Women in India " six years in a row, earning MCM India a spot in the Hall of Fame, which is reserved for companies who consistently feature on the 100-Best list.
MCM India supports women in a variety of ways – from programs that address their unique concerns to dedicated leadership and training programs to forums that create a culture of appreciation and allyship. To learn more, we asked three women from the MCM India team to tell us what makes their workplace one of the best in the country.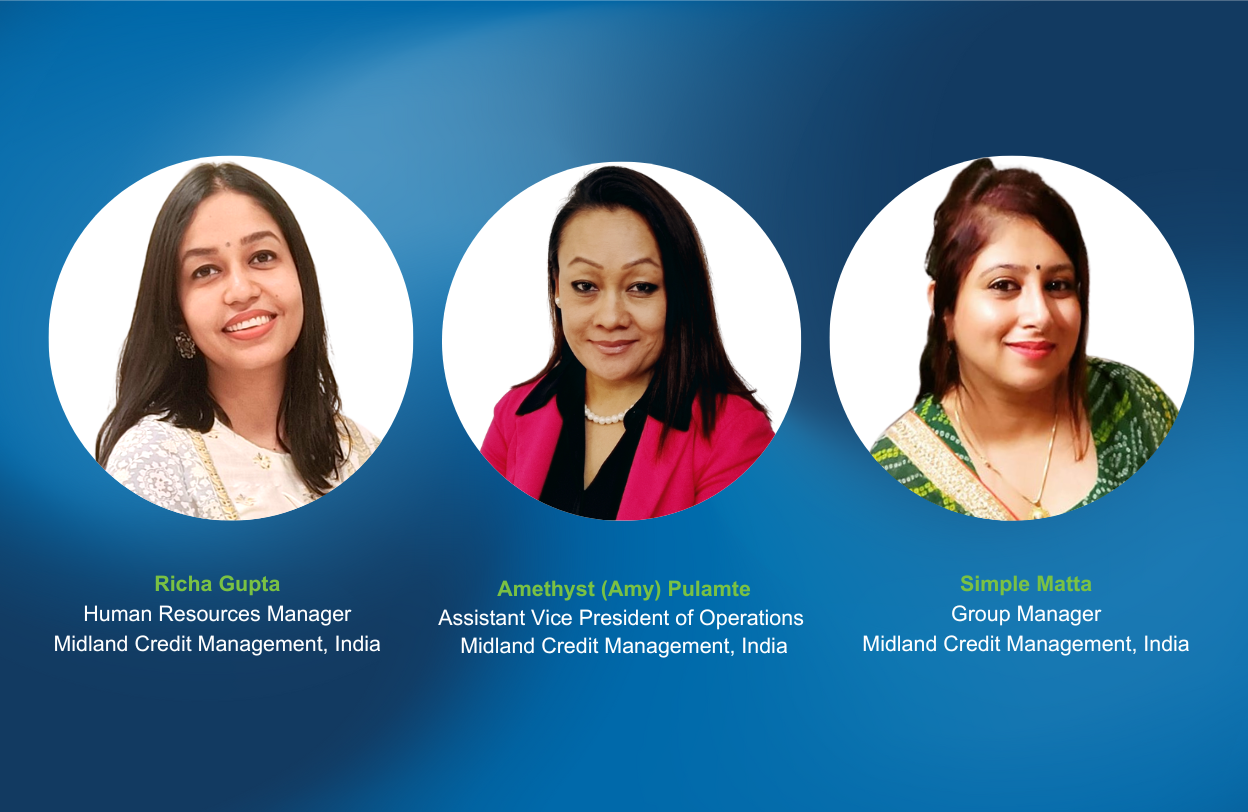 Richa Gupta, Human Resources Manager at MCM India, joined the company in February 2020. She said the company stood out to her because "people come first before anything." This approach is exemplified by MCM India's programs focused on issues important to women.
For example, MCM India has a strong focus on women's safety. Gupta shared that, "All women employees are given security guards if they are the last ones to leave at night. Care calls are made to ensure they have reached their home safely. Women employees also have dedicated parking spaces." Additionally, self-defense workshops are offered to give women the skills and confidence to protect themselves. All these efforts help women feel safe at work and beyond.
In addition to these efforts, Gupta's favorite women-focused initiative is I-Care Leave. It's a no-questions-asked approach to requesting time off that has "normalized the conversation around specific needs of female colleagues."
"It has changed the way we look at our employee policies and processes," Gupta added. MCM India also puts a major emphasis on leadership and training programs for women. Assistant Vice President of Operations, Amethyst (Amy) Pulamte, a single mom of two 11-year-old boys, shared how MCM India helped her achieve her professional and personal goals.
"Becoming a mom later in life really hit home. I knew I wanted to create a better life for my children. I wanted to be part of an organization that would give me financial stability to fulfill my goals," she said.
Her dream of working for MCM India – "The place to be," as she referred to it – became a reality, and Pulamte now calls MCM a second home.
"Not only have I been able to meet my goal of financial security, my leaders at MCM have trusted, rewarded, supported and enabled me to be where I am today," she said.
Pulamte believes MCM India's leadership training programs empower more women to take up leadership roles. For example, earlier this year, MCM India partnered with AVTAR, a leading diversity, equity, and inclusion consultancy, to offer a research-based program called Intentional Career Pathing to 39 female colleagues. This special training equipped mid-career women professionals with specific skill sets to enable them to pursue their work goals successfully and sustainably.
Another area where MCM India excels is in providing forums to build community for women throughout the company. Group Manager Simple Matta has been with MCM India for seven "glorious years." She says that the company is "committed to putting colleagues first by offering tools and resources that empower employees and help them thrive from the inside out." One example of this is the company's WESpeak Council (WE stands for Women@Encore). This program is a dedicated employee resource group that invests in women to create an environment that celebrates their unique contributions, promotes a culture of allyship, and champions their professional and personal growth.
Colleagues also have the opportunity to participate in the company's Tuition Assistance Program to continue pursuing their education in addition to attending company-led professional trainings.
With these wonderful programs, and many more, there's no doubt that MCM India has been a leader in efforts to provide opportunities for women. However, with over 600 million women in the country, we wanted to know what our team thought other companies could learn from the MCM India experience. Matta suggests women can thrive with flexibility in terms of leave, courses for professional and personal growth, and having the workplace reflect the diversity of the country.
Gupta adds, "Companies should focus on their leadership team to include strong female leaders. When women see other women in leadership positions, they are more likely to believe that their dream of climbing the corporate ladder and gaining success is possible."