October 26, 2021
MCM's CSR Bolsters Community Health, Environment, and Education for Children in India
MCM's Corporate Social Responsibility (CSR) efforts demonstrate our commitment to making a positive and sustainable impact, through our business, everywhere we operate around the world. These efforts have been on full display in India, thanks to our colleagues there and around the world.
In recent months, our colleagues have poured their time, energy, and dollars into bolstering community health infrastructure against COVID-19, restoring water and biodiversity to the Aravalli Wastelands and supporting care and education for hundreds of children in disadvantaged situations. All efforts benefit immediate communities in the Delhi National Capital Region and the state of Haryana.
"At MCM, we're committed to developing resilient and sustainable communities by supporting the most critical needs in the places where we live and work,"
Jaison Thomas, Managing Director at MCM India
"We take pride in the contributions of our colleagues towards creating a lasting, positive impact on our community's health, environment and education."
Bolstering Haryana State's Response to COVID-19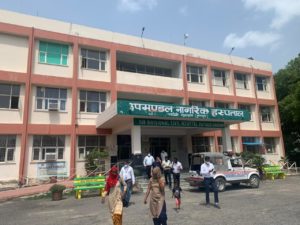 MCM India is installing an oxygen generation and refilling plant, supplying a critical lifeline to COVID-19 patients in a region where supplies have been short since the virus tragically surged in March of this year.
The plant, which is being installed at the Community Health Centre Pataudi in Haryana state, is being co-funded by employees and our India Corporate Social Responsibility (CSR) budget.
Powered by the "giving back" spirit of our employees, we launched our first-ever global fundraiser in partnership with GiveIndia, an organization working to alleviate poverty by enabling individuals and organizations to raise and donate funds, and Doctors For You (DFY), a pan-Indian humanitarian organization that provides medical care to vulnerable communities.
As a result, we raised $57,500 USD, thanks to the generosity of our colleagues around the world.
Restoring Water and Biodiversity to the Aravalli Wastelands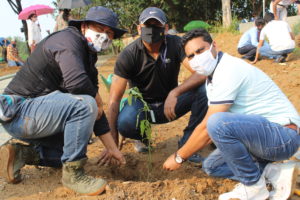 Most of the Aravalli mountain range in Haryana, the state where MCM India operates, has been classified as "non-productive wasteland" and has lost over 70% of its vegetation cover and 60% of its forests.
Currently, MCM India is working a 4.5-acre patch of land, in an area called Sikanderpur, to improve the water table, one of the worst-hit in the northern parts of India, and to create a green woodland to provide clean air for the local community. We are engaging with a non-profit to revive a drying water body, clear out clogged natural water channels to ensure correct flow of water and percolation down to the water table and, plant and support more indigenous trees to improve soil quality.
Some water channels have already been constructed and have been successfully trapping rainwater as intended. And recently, about 50 employee volunteers have visited the site and planted more than 200 indigenous trees to support the green cover.
Supporting Care and Education for Vulnerable Children
MCM India is proud of its longstanding work with Rainbow Foundation India (RFI), an organization working to care for marginalized and disadvantaged children in the Delhi capital region.
Through RFI, we support holistic care for 80 children and formal school education for 205 children, all of whom come from underprivileged communities and are survivors of human trafficking, abandonment, or other tragic social situations.
We aim to continue working in all these crucial areas in the coming years, and we appreciate the contributions and support of all our employees, beneficiaries, immediate communities, and all other stakeholders.