October 26, 2023
MCM Costa Rica Supports Local Community with Financial Literacy Lessons for Teen Mothers
When MCM Costa Rica established its Corporate Social Responsibility (CSR) Committee two years ago, one colleague's story inspired them to make giving back personal.
Claudia G., an MCM Costa Rica Account Manager, had been served as a teenager by Hogar Posada Belen, a non-profit that helps teenage mothers with the skills they need to be successful, independent adult parents. 
After leaving the program, Claudia started working at MCM Costa Rica. 
"She proposed Hogar Posada Belen to thank and give back for all she received, but also to make a difference in the lives of all the other teen mothers that are going through similarly difficult situations," said Susana Yglesias Vicente, Communications Specialist & CSR Lead at MCM Costa Rica.
Participants in Hogar Posada Belen are under government protection due to unsafe or vulnerable living conditions, but they must leave the organization when they turn 18. 
Being able to give back as an adult to the organization that once helped me as a teen is a beautiful and precious gift. As someone who has been in their shoes, it's a privilege to bring hope to young mothers for a brighter tomorrow.
Claudia G., MCM Costa Rica Account Manager
Knowing the challenges facing these young mothers, MCM Costa Rica has been working with Hogar Posada Belen for two years to help participants learn financial best practices that will put them on a path to financial freedom. MCM volunteers tailor lessons from Money Matters — the company's financial literacy curriculum — to participants' specific circumstances. 
"Most of these young women have no support network," Susana said. "Most are behind in high school or may only have very basic knowledge or skills to help them in their job search. Once they become of legal adult age, they must leave the organization that has, until that moment, covered every one of their basic needs and their children's needs as well. Life at 18 is hard enough, and having a young child to support makes knowing how to manage personal finances even more critical."
Helping young mothers forge a path to financial freedom and independence for themselves and their children aligns with Encore's Mission to create pathways to economic freedom, one of our three Values which focuses on caring for and putting people first, and our one of our CSR pillars to build strong and resilient communities.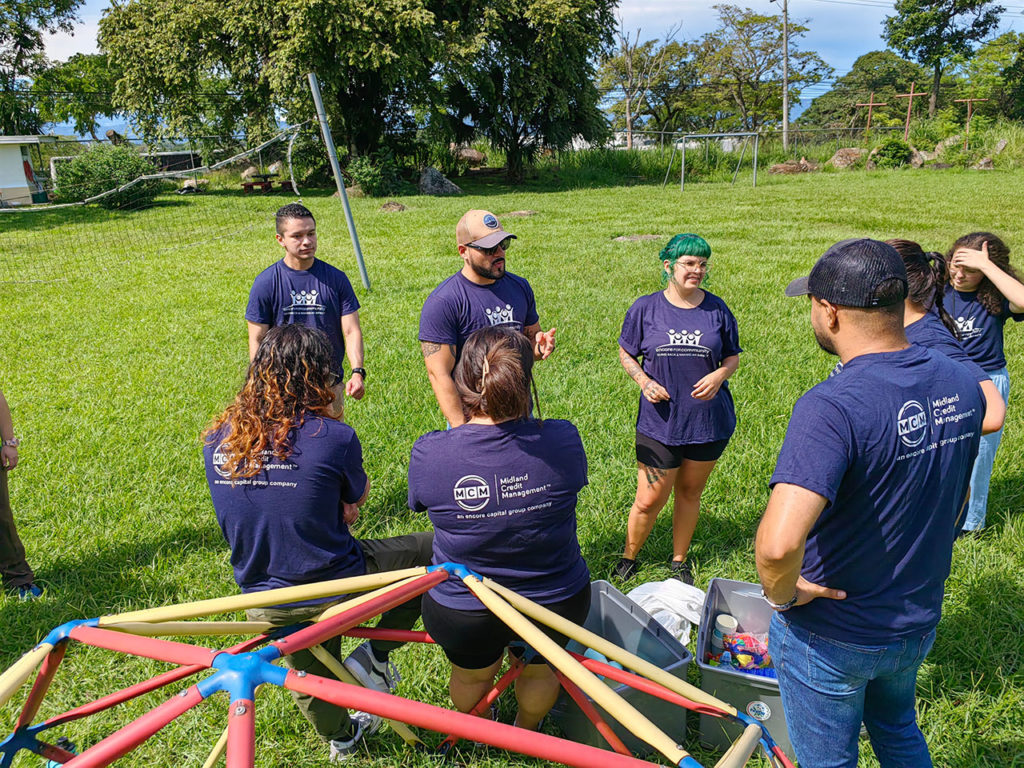 "This type of volunteer work truly embodies our Mission, given that we're having a direct impact on these mothers' economic freedom," Susana said. "All of this is for them to have better financial health and be more resilient."
MCM Costa Rica colleagues volunteer with Hogar Posada Belen in several ways beyond financial literacy as well. That includes helping the organization with infrastructure and facility enhancements, such as painting a mural for the children in the nursery or helping residents cultivate an orchard to educate them in environmental consciousness and give them a food alternative.
"It took us more than a day to finish the mural," said Erika Gätjens, Senior Project Manager at MCM Costa Rica, who volunteers with Hogar Posada Belen. "Through this process we were able to demonstrate what is possible when people work together in harmony with teamwork, willingness to learn and compromise. We were able to demonstrate to the girls you are able to do a lot if you put your mind on it."
Women@Encore&Allies, an employee resource group that empowers women through support, training and mentorship, has also gotten involved, leading various talks on emotional intelligence, self-esteem and other important topics for teen mothers.
MCM Costa Rica's Human Resources team has also volunteered by giving participants tips on how to build resumes and perform in job interviews. Other MCM volunteers have helped lead classes on creating crafts and jewelry like bracelets, hair accessories and lettering that can be sold as part of a small business.
MCM's work with Hogar Posada Belen isn't just about teaching teen mothers about work, however. They also make time for fun.
"Even if the reality they'll face outside the organization is going to be difficult, they're still kids," Susana said. "They are mothers, yes, but they're also teenagers who deserve to have fun from time to time. We like to organize different activities where they can play and laugh for a day and clear their minds from reality. What makes it even more rewarding is that even before we leave their site, they are already looking forward to our next visit."