November 8, 2021
Leadership Insights: A Conversation with Encore President and CEO, Ashish Masih
This year Encore President and Chief Executive Officer, Ashish Masih, celebrates four years in the role and 12 years with the company. We had a chance to sit down with him to talk about what he learned, his thoughts on Encore's critical role in the economy, his hopes for the future and much more.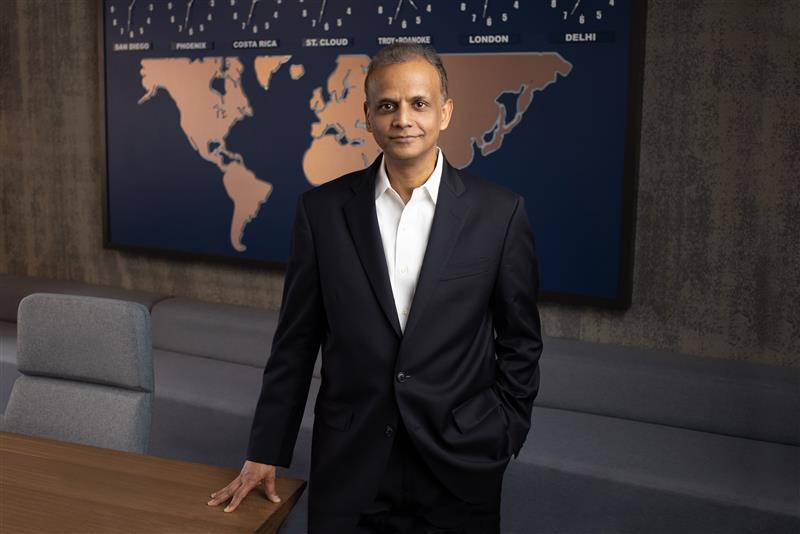 You joined the Encore family prior to becoming CEO. In your 12 years knowing the ins and outs of the business, what in your view sets Encore and its subsidiaries apart from other companies doing similar work?

There are three main ways we're different, and a lot of it stems from our people and culture. First, consumers are at the heart of everything we do. Our mission is to create pathways to economic freedom for consumers, and we do that by listening to the consumer's needs and working with them in an empathetic, flexible way that allows them to resolve their debt obligations with a plan that truly works for them. Second, our analytical approach to the business helps us make good decisions and deliver strong results in a consistent manner. And finally, all of this is possible thanks to our greatest asset, our people and culture. Our company values are that we care, we find a better way, and we are inclusive and collaborative. Those values work together to support a culture where our colleagues feel connected to the business, invested in helping consumers, and valued by their peers and managers. That's a powerful combination.
What is your personal philosophy about the role that Encore plays in the financial ecosystem?
I believe credit is the lifeblood of any successful economy and a critical part of that is consumer credit.
Ashish Masih, President and CEO, Encore Capital Group
Most of us have had experience in using credit, whether through credit cards, home loans, car loans, etc. And for institutions to be able to lend money, being able to collect it back is critical. That's where the accountability of a consumer or borrower comes in. Everyone intends to pay off their loans, but difficult situations do happen to a small portion of borrowers. That's why companies like Encore exist. Our business is to help consumers recover financially — by understanding their situation and tailoring a payment arrangement that works for them. As a result, we help consumers restore their credit profile, which may give them access to the credit they need to buy that home or car or pay for college. By doing that we also return capital to banks and lenders so they can continue lending in a way that's affordable and accessible to people. As one of the largest companies in this industry, Encore plays a vital role supporting the credit ecosystem in multiple countries.
Thinking about that philosophy reminds me of the time when I came to the U.S. from India in 1987 as a student. When I had no credit history to speak of, I was thrilled when a bank approved me for my first credit card, and later on was grateful for the opportunity to borrow $3,500 on a credit card to buy a used car. As an immigrant and a young person, getting access to that part of the financial system helped me move ahead in life.
What would you say the global pandemic has taught you about being a leader?
At a very high level, it bolstered my faith in people's resiliency and tenacity. It's also shown me how much we can accomplish generally as an economy by working from home. It's incredible. We saved costs and time very effectively by working globally without travel and still being closely interconnected and productive. It confirmed my faith in our leaders' and their teams' ability to achieve goals that would seem unimaginable in normal times.
In your view, what makes Encore colleagues unique?
At Encore, our people are driven, collaborative and intellectually curious who like to solve problems. We also have a very analytical, fact-based culture, so employees with those skills tend to do well. Whether we're working with consumers from different backgrounds to resolve their financial difficulties or combining teams across our offices in the U.S., Costa Rica, India, U.K., Ireland, France, Spain and Portugal, the ability to work inclusively and collaboratively with others is also key.
It's now been four years since you became President and CEO. What has been your most uplifting moment, and what do you want your legacy to be?
What we were able to achieve and overcome in the last year while responding to COVID-19, keeping our colleagues and communities safe and supporting the consumers we serve through the pandemic, turned into an incredibly uplifting time, despite all the hardship. In terms of legacy, I hope I leave a lasting impact on Encore in helping build an organization and culture that helps consumers, enables an inclusive and collaborative environment for our colleagues around the world, and delivers amazing business results – all leading to enhance shareholder value.
If you could go back in time, what advice would you give a fellow global leader to prepare for 2020?
Going back to a time prior to the pandemic, I would have said that it's critical to embed resilience across the entire organization, focus on the quality of talent and leadership among your team, and commit even more to your values and culture. By resilience I mean all of us, whether in leadership or not, need to have the fortitude to deal with change, including external impacts that are not typical, and in many recent cases unprecedented.  In addition, we need to have resilience in key business areas, such as a strong balance sheet, technology that can adapt to changing conditions, operations capacity that is flexible by leveraging multiple sites, dashboards with key metrics that enable sound decisions to be made, and so forth.  Organizations that exhibit such resilience will be able to withstand unanticipated challenges much better, and eventually come out stronger to win in the marketplace.