April 4, 2022
'Find a Mentor and Talk to Everyone': Encore's Female Tech Colleagues Encourage More Women to Join the Field
Many of the female tech colleagues at Encore Capital Group and its subsidiaries, Midland Credit Management (MCM) and Cabot Credit Management, knew from an early age they wanted to work with technology in their careers. Others found the skills matched their personalities over time.
The common thread is that they enjoy problem-solving and working collaboratively with others — traits that will serve anyone interested in starting a tech career.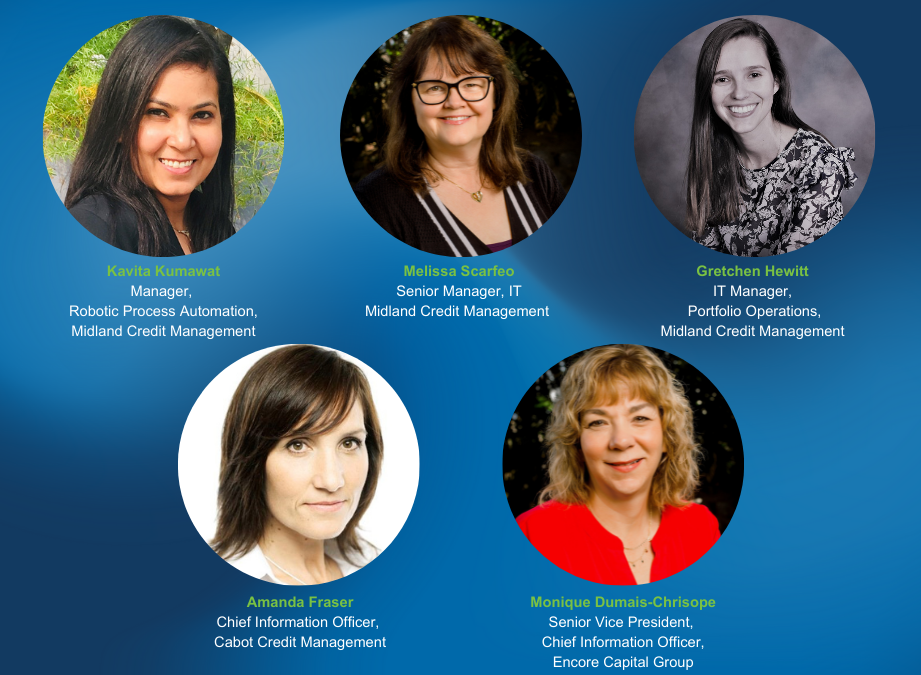 "I fell in love with computers and technology in high school," said Melissa Scarfeo, Senior Manager, IT, at MCM in the U.S. "This was long before widespread cellphone and internet use. My algebra instructor had computers in the classroom, and a handful of students would come in on Saturday to see how they worked, learn how to assemble them, and, of course, play games. I have always loved puzzles and problem-solving, and this was exactly the type of activity I craved."
"I was always keen to work in technology and had a great inclination toward innovation," said Kavita Kumawat, Robotic Process Automation (RPA) Manager at MCM in India."
On the other hand, Gretchen Hewitt, IT Manager, Portfolio Operations, at MCM in Costa Rica, didn't start her career with a technical background but was drawn to tech when she realized she enjoyed the challenge.
"Technology is always evolving and changing, and over time I realized this is suitable for my personality, as I like being challenged and have a passion for learning new things," she said. "Regardless of the level of complexity, I feel proud when I'm able to connect with a team of people, with different cultures and background, whether in IT or business/operations, and we can become one team to achieve successful results."
Amanda Fraser, U.K. Chief Information Officer at Cabot Credit Management, said technical skills come with time and experience, but the field needs other skills as well.
"We need to raise the IT communication bar to be 'better listeners' and talk 'less tech,'" she said. "Senior technology roles in the past tended to favor very technical backgrounds, which have typically been fulfilled by males. Although I have a technical background, my key skills are in business alignment and good IT delivery performance, which matches me well to the needs of a Chief Information Officer. That's still a relatively new role in IT."
She added that "we need to break our working pattern models" to help women enter and stay in the tech workforce without compromising work-life balance.
"In IT this is entirely solvable," she said. "We need to help young females in schools, colleges, etc., understand that good, interesting, flexible careers can be in IT. I have had the career without the flex, which has been quite a tough gig at times, and the flex had to come from me changing roles. We also need to recognize the value of the non-technical roles more and build progression paths."
All four tech leaders said mentorship, focus on employee wellbeing, and opportunities for professional development can help women pursue more careers in tech.
"Supporting professional development is something that MCM does very well," Scarfeo said. "I have learned so much during my tenure with MCM. I have had incredible support from my manager and others in developing my skills as a leader, helping me keep my technical skills relevant, and giving me the opportunity to take on new roles that stretch and challenge my abilities."
"In the COVID-19 era, regular checks on the wellbeing of team members are also important," Kumawat said. "I always strive to strike a work-life balance in the team. Along with all this, being a mother of a 4-year-old, I understand the importance of having a balanced life."
Scarfeo added that women interested in tech careers should keep trying to "find your voice."
"Don't be intimidated," she said. "I feel like IT attracts those who are shy and introverted, whether man or woman. Keep current on your area of specialization, as well as general IT developments. The more you know, the more comfortable you will be to use your voice and be heard. There are many great role models here at MCM that can help you on your journey. Find a mentor and talk to everyone."
Fraser echoed Scarfeo's sentiments, saying, "Don't worry that everyone else is techy. They were you once."
"I continue to be inspired by the women in our organization," shared Monique Dumais-Chrisope who serves as Senior Vice President, Chief Information Officer for Encore Capital Group and Midland Credit Management. "They are changing the narrative around females in tech as they follow their passion."
When asked what she wants her global IT organization to be known for, Dumais-Chrisope responded, "I want us to be known as an inclusive place where women can always find a seat at the table."