June 6, 2023
Encore's Pride Network Promotes Belonging and Visibility for LGBTQ+ Colleagues
Continuing its commitment to foster a diverse, inclusive workplace, Encore Capital Group (Encore), through its subsidiary, Midland Credit Management (MCM), recently launched its Pride Network for LGBTQ+ colleagues, joining other Employee Resource Groups like the Black Employee Network and Women@Encore&Allies. 
The mission of the Pride Network is to co-create a safe, unbiased, and inclusive environment that empowers LGBTQ+ colleagues and their allies to thrive.
"Encore and MCM have held several LGBTQ+ focused events over the years, but this is our first forum for regular dialogue and support," said Addison Crawford, Managing Vice President, MCM General Counsel, and Executive Sponsor of Pride Network. 
"Members of the LGBTQ+ community are not obviously identifiable, and thus can be 'invisible' to others," he added. "Pride Network allows us to have year-round conversations and provide ongoing visibility to the LGBTQ+ community and the issues affecting us. This is especially important for our colleagues who live outside more supportive communities."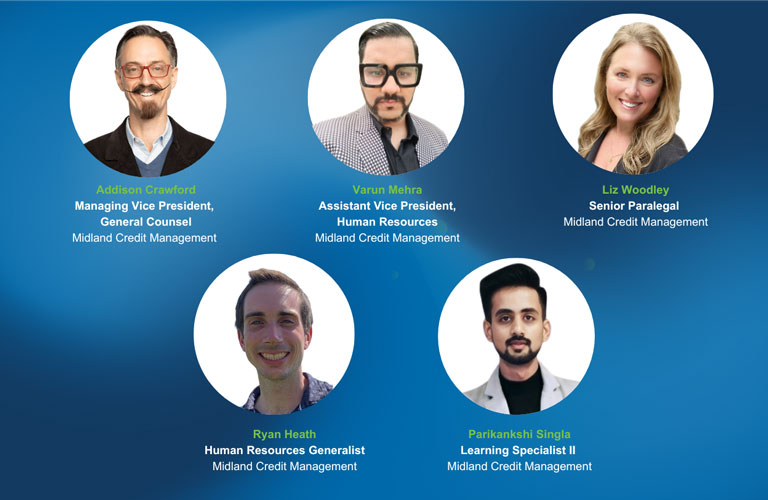 Pride Network launched this year in Costa Rica, India and the U.S., with plans to explore expanding to Encore's European and U.K. sites in the near future.
Pride Network has three pillars — Internal Education and Communication, Structural Inclusion, and External Engagement and Awareness — all designed to reflect the needs and goals of the LGBTQ+ community.
"Internal Education and Awareness is intended to help raise awareness of the LGBTQ+ community, history and challenges in all our geographies," Addison said. "Structural Inclusion will help identify those areas where our policies and practices may not be optimized for the LGBTQ+ community. External Engagement and Awareness is for our members to give back to the larger community."
As an example of optimizing policies to the LGBTQ+ community, Addison said something simple like using the terminology "spouse" rather than "husband/wife" on company forms is important for the community to feel embraced.
"All these pillars will be driven by Pride Network members, and goals may differ between geographies and sites," he said.
Members of the Pride Network have praised the group's creation as an example of our company living up to its Value of being inclusive and collaborative.
"If one of our Values is about creating a diverse and inclusive environment, then it's important to make that statement a reality," said Liz Woodley, Senior Paralegal at MCM and a Pride Network member. 
Liz said she hopes Pride Network will bring awareness to issues facing members that colleagues may not notice.
"Coming out doesn't just happen once," she said. "It's an every day, every moment choice that is made, and I make that choice based on how safe I feel in that moment. It's not always safe to hold hands with my wife. It's not always safe to tell the person at the store that I have a wife and not a husband. It's not always safe to live a life that is outwardly queer."
Other members pointed to Pride Network as a place where members can feel safe being their authentic selves.
"Groups like this provide safe space for folks to connect, share experiences and create positive change," said Parikankshi Singla, Learning Specialist II at MCM and Global Chairperson of Pride Network's Internal Education and Communication Committee. "Pride Network really supports our Values by being respectful toward everyone, irrespective of identity, and finding innovative ways of embracing our differences."
Parikankshi added that groups like Pride Network are good for our business.
"Groups like Pride Network create a supportive community that fosters diversity, equity and inclusion," he said. "They help us attract and retain diverse talent, promote awareness and education around LGBTQ+ issues, and increase motivation and productivity among members, leading to better business performance."
Ryan Heath, Human Resources Generalist at MCM and a Pride Network member, agreed that the group will help members feel safer at work.
"Every time I start a new job or meet new people, there is always a moment of questioning whether it's emotionally safe to talk about my family or personal life with this group," he said. "It usually takes some time to make that decision, and sometimes I do choose not to tell certain folks out of uncertainty of what that interaction will be.
"Being part of the LGBTQ+ community, I know how important it is for colleagues to be their authentic selves at work and not feel like they have to hide anything," Ryan added. "I hope we can make it easier for colleagues to feel like they can be their authentic selves in the workplace."
Varun Mehra, Assistant Vice President, Human Resources, MCM India, and Pride Network's India Chairperson, said the group will not only help LGBTQ+ colleagues feel safer, but will provide an "equitable shot for everyone to grow."
"A drop of confidence and compassion can move mountains," he said. "Pride Network definitely helps foster the feeling of safety, security, and mental wellbeing of members. It provides a platform to help colleagues identify and resolve concerns and bottlenecks holding them back from their full potential."
Varun added that allies have an important role to play in helping LGBTQ+ colleagues feel safer and more comfortable at work.
"Allies are crucial to help build an ecosystem and culture that makes LGBTQ+ colleagues thrive and be empowered," he said. "Allies can help dismantle biases and microaggressions and support in creating spaces for their LGBTQ+ colleagues to bring their whole selves to work. Diversity means 'more,' and all allies at Encore can help enrich the culture."