March 26, 2021
Encore Capital Group Celebrates International Women's Day
Company Continues Strengthening its Diversity & Inclusion Commitment, Ensuring Women Can Thrive at Work. March 8th was International Women's Day, and for Encore Capital Group, it was an opportunity to celebrate all the women who help our company deliver on its mission of creating pathways to economic freedom.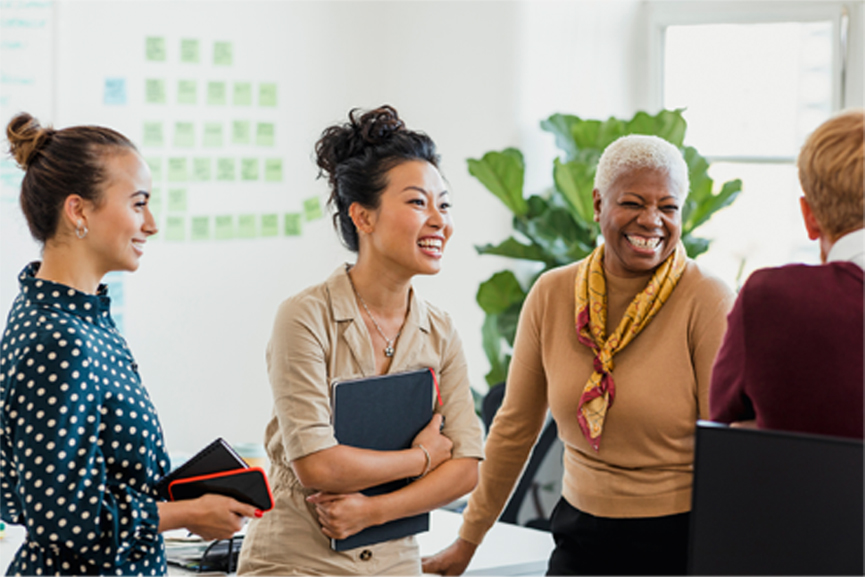 Encore hosted a panel discussion featuring several of the company's women leaders. The theme was #ChooseToChallenge, and panelists included:
Akhila Rao, VP, Chief Digital Officer, Midland Credit Management
Amene Ayub Bittner, VP, Operations, Midland Credit Management
Amy Anuk, SVP, Managing Director, Encore Advantage
Monique Dumais-Chrisope, SVP, Chief Information Officer, Midland Credit Management and Encore Capital Group
Neha Arur, Sr. Director, Human Resources, Midland Credit Management India
The panelists discussed how to challenge current systems in a variety of ways, from helping women achieve better work-life balance to confronting stereotypes and battling inequality in the workplace. They also shared the biggest challenges they see for the next generation of women leaders and how men can be allies for their female colleagues.
In discussing how to ensure team members feel empowered to challenge issues they see, Neha Arur offered this sound advice for everyone:
"Assume that each of us is responsible for talking about inequality"
Neha Arur, Sr. Director, Human Resources, Midland Credit Management India
Encore's celebration of women continues throughout the month of March, where employees are encouraged to wear purple, signifying justice and dignity; update their Zoom backgrounds to show support for women; send a note to share gratitude for women and allies; and follow Encore's LinkedIn, where we've shared statements from women leaders to engage with and reshare with their communities.
About half of Encore's global workforce is women. In a year when the pandemic saw nearly 3 million women leave the labor force in the U.S. alone, we remain committed to our continued investment in diversity and inclusion (D&I) to keep this ratio strong and continue to improve it in years to come.
This increasing gender diversity is a testament to the steps Encore continues to take to ensure the company is a place where women can thrive at work, and we're proud that Encore has been recognized for these efforts. In 2020, Midland Credit Management (MCM), an Encore Capital Group company, was designated one of the "100 Best Companies for Women in India" for the third consecutive year. Encore was also recognized as a "Winning (W)" company by 2020 Women on Boards for our commitment to board-level diversity, as one-third of our nine board directors are female.
Most recently, and in the spirit of a broader commitment to all types of diversity and inclusion, Encore's Chief Human Resources Officer, Tracy Ting, was recognized among the "Top 100 Diversity Officers" by the National Diversity Council (NDC). The NDC is a nonprofit that brings together the private, public and nonprofit sectors to discuss the many dimensions and benefits of a multicultural environment. Tracy spearheads Encore's D&I efforts, which have greatly expanded over the past year.
Making Encore a more inclusive place is an ongoing journey. We'll continue to share updates around our commitment to D&I and how we intend to live by one of our core values – "We are inclusive and collaborative" – which highlights the importance of embracing our differences and working together to ensure every individual can thrive.