February 15, 2023
Encore's Global Black Employee Network Empowers Colleagues to Feel Seen, Heard
Encore's Core Value of Inclusion Opens Door to Employee Resource Groups
With one of Encore Capital Group's (Encore) three Values specifically highlighting our commitment to inclusivity and collaboration, we're now taking the next step in our diversity, equity and inclusion (DEI) journey by launching new employee resource groups (ERGs).
These are voluntary, employee-led groups that foster a diverse, inclusive workspace by offering colleagues who share characteristics such as race, ethnicity, gender, sexual orientation, and lifestyle, a safe space to extend mutual support, pursue professional development, and mentorship opportunities.
The Black Employee Network (BEN) launched in June 2022 and is globally chaired by Leslie Athill, Vice President, Corporate Strategy and Head of Latin America. Leslie is Encore's most senior African-American leader.
"BEN provides Black employees with an avenue and environment to share common experiences, support one another and feel seen and heard."
Leslie Athill, Vice President, Corporate Strategy and Head of Latin America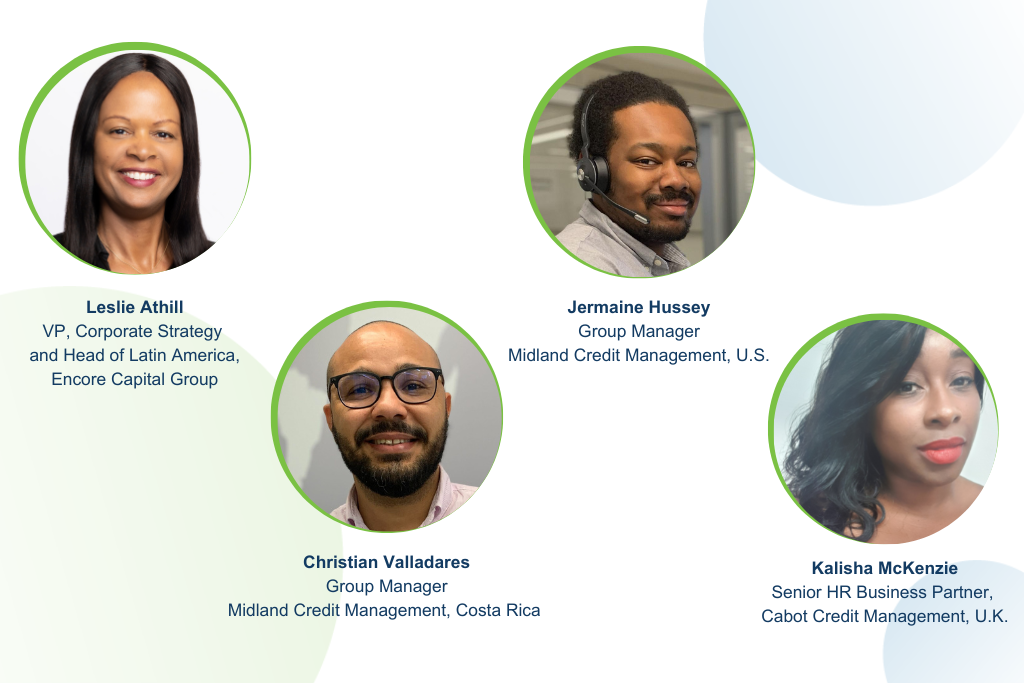 "It's a safe place where Black employees support one another in their ability to bring their authentic selves to work."
BEN is global and includes site leaders in the U.S., Costa Rica and U.K., from Encore's subsidiaries, Midland Credit Management and Cabot Credit Management who serve on its leadership team and help facilitate and implement programs at the local level. Members also meet virtually on a regular basis.
"Virtual meetings allow us to interact with individuals that we would not have met otherwise and to share and discuss differences that may exist in different geographies," Leslie said.
BEN has four key pillars that define high-level goals for members: Social & Community, Professional Development, Awareness, and Representation. One example of Social & Community pillar activities is volunteerism and giving back to the community. Recently, BEN members volunteered at Junior Achievement chapters in San Diego, California and Troy, Michigan in recognition of the Martin Luther King, Jr. Day of Service holiday.
The group is also planning to partner with Human Resources to pilot a mentorship program for its Professional Development pillar.
"We are excited about launching the mentoring program since this will be a clear opportunity for allies to become involved in BEN," Leslie said. "Allies play an extremely important role. They have the opportunity not only to learn through the various activities and events hosted by BEN, but also to give back by extending their time and talent."
Leslie also said she believes BEN can create more engaged colleagues and better business results for Encore.
"Feeling a sense of belonging is essential to employee happiness and, in turn, employee performance. I've already had several situations where BEN members have reached out to me to discuss a business topic. This likely would not have happened if it weren't for the network.
"Long-term, I believe that BEN will serve as an attractive recruiting and retention mechanism for Black employees, while also providing targeted and relevant professional development opportunities that lead to a greater number of Black employees in senior leadership positions at Encore," she added.
"There are so many benefits to ERGs, it's hard to narrow down a list," said Steve Carmichael, Senior Vice President, Chief Risk and Compliance Officer and Executive Sponsor for ERGs globally at Encore. "They generate ideas by amplifying the voices of underrepresented colleagues. They spread awareness of how a certain identity intersects with workplace issues.
They provide a support network for employees who benefit from sharing with others who may better understand them. ERG members help other members feel accepted and valued. I'm so proud to be able to have this role and look forward to all the great things ERGs can do for our colleagues and culture."
Colleagues participating in BEN said they feel they're already reaping the benefits.
"I've been able to question my own biases and learn new things," said Christian Valladares, Group Manager, MCM and BEN Site Lead in Costa Rica. "It just opens your mind in a different way. I'm grateful for this amazing initiative and feel very proud to work for a company that promotes these types of inclusion efforts, as the Black community has a lot to give." Another positive aspect of ERGs is that colleagues outside the groups have a chance to learn and appreciate the experiences of their ERG peers and become allies.
"I would like people to better understand how racial microaggressions negatively affect people's lives and self-esteem," Christian said. "I've been questioned at times in my life about my Afro-Costa Rican heritage, just because of the color of my skin. The need to explain myself should not be necessary.
"ERGs are important because they help bring to life our company's Values in a way that people can really feel, besides just reading our Mission, Vision and Values on a wall," he added.
Jermaine Hussey, Group Manager at MCM and BEN Site Lead in Troy, Michigan, said that BEN gives him a unique opportunity to meet new people from different sites and departments who have similar interests. It's also a great way to learn, he added.
"Professional Development resonates with me the most because I love to learn and expand my professional knowledge, and I also love to help others grow into leadership roles and do what I can to pass along my knowledge," he said. "As a person of color in a leadership role, I feel it's important to highlight the fact that a person like me can do this job and do it well." Kalisha McKenzie, Senior Human Resources Business Partner at Cabot and who serves as BEN Site Lead in the U.K., said that BEN enables her to connect with other Black colleagues in a space where she can be authentic.
"It's a great opportunity to connect and bond with other Black colleagues across Cabot and Encore, where I feel I can express my voice and share my experiences with others in a safe space without having the need to downplay my authentic self," she said. "It gives individuals the opportunity to build confidence and credibility as they acquire new skillsets, realizing and maximizing our true potential, whether it's through education, training, coaching, mentoring or changes in mindset."