November 17, 2022
Encore Connected Week: A Celebration of our Values
At Encore Capital Group, we live by our Values: we care; we find a better way; and we are inclusive and collaborative. These Values were co-created with input from colleagues representing every level of our organization, and every country where we operate. They unite us across geographies, cultures and time zones, and they play a role in every facet of our business. Because they're so deeply engrained in our culture, we were proud to celebrate our Values during the second annual Encore Connected Week.
This multi-day global, virtual event kicked off with a fireside chat between our President and CEO, Ashish Masih, and Senior Vice President and Chief Human Resources Officer, Tracy Ting. Ashish shared his thoughts on how our Values continue to support our culture, what he's most proud of in 2022 and how we can prepare for the future.
Looking ahead and across our geographic footprint, Ashish noted that the key is in being agile and ready to adapt. Citing two Values, he stated:
"If you look at our Values, that's how we've been able to address challenges and also capitalize on opportunities that have come our way. And at the end of the day, it all boils down to being ready for consumers who are facing financial difficulty and helping them with their personal recovery."
Ashish Masih, President and Chief Executive Officer
Next, Encore Connected Week celebrated how we "find a better way" by hearing from colleagues around the world who shared their most moving interactions with consumers. There were inspiring stories from the U.S., U.K., Costa Rica, India and Spain about helping people on their path to financial freedom.
Klaus Bengochea, a Group Manager at Midland Credit Management Costa Rica, shared a story about one of the first consumers he ever worked with shortly after joining the company as an Account Manager. Following his training, Klaus spoke with a woman who was deep in debt. After a long conversation, he helped establish a plan that he thought would be manageable for her and help achieve her goals.
"[Years later], I found myself a Group Manager, and I get a call from this same lady," said Klaus. "She called to let me know that she had sent her last payment, and she was a step closer to helping her daughter get the house of her dreams. That was my most memorable experience."
Encore Connected Week culminated with a video highlighting how our teams live the "we care" Value in communities around the world. Some of our most passionate colleagues talked about impactful charitable projects they've participated in and how it feels to give back in the places they call home.
Nieves Puertas, a Talent & Development Manager at Cabot Iberia, summed up her recent community impact work, saying: "One of the greatest activities that I've been able to participate in was a food collection campaign that we did to help the Ukraine refugees. It was an awesome experience that made me realize what a great company we work in and the awesome colleagues I work with. We had to buy extra boxes for all the clothes, diapers and other materials that we managed to collect."
To end Encore Connected Week, sites around the world each identified a charity of their choice that addresses local needs, and colleagues came together to donate tangible items like canned goods, coats and toys. It's another way for our company to demonstrate that, in the words of Nieves, "We truly care for our communities and are always ready to support and to help those who need us."
Pictured: Colleagues kicking off giving back efforts.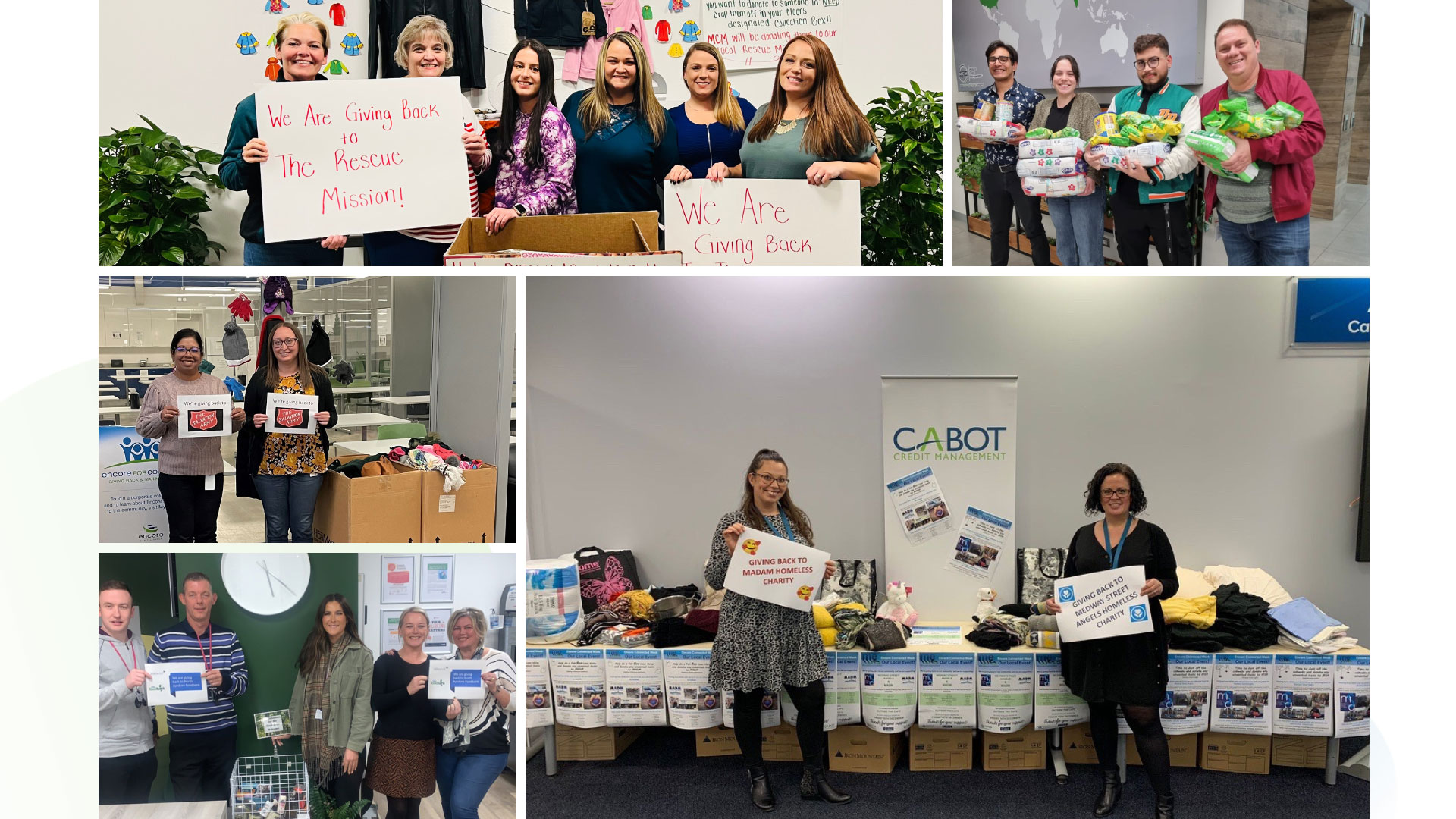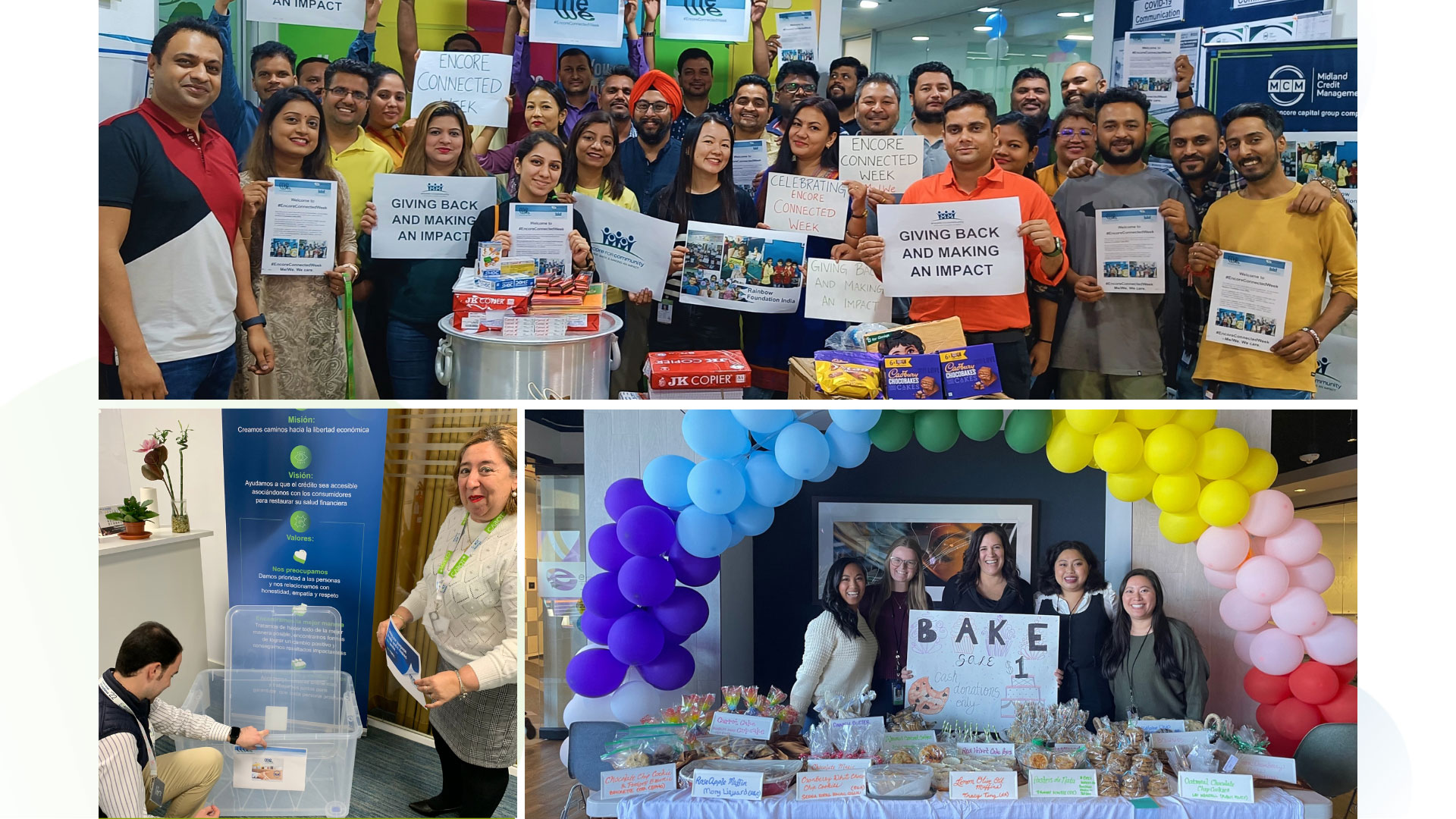 To learn more about Encore's Values, visit: https://www.encorecapital.com/mvv/